Ten Second Review
When it comes to prestigiously-badged compact executive German cars, traditional thinking suggests that estates are fine but five-door hatchbacks aren't. Audi however, hasn't made it to the top of the pile by traditional thinking and their second generation A5 Sportback continues to turn such thinking on its head, with coupe styling married to a couple of rear passenger doors and hatchback practicality.
Background
Back in 2010, the original version of Audi's A5 Sportback was the first hatchback in the compact executive segment, the area of the market dominated by models like Audi's A4, BMW's 3 Series and the Mercedes C-Class. Previously, we'd seen estates in this sector, but never a hatch. The A5 Sportback changed that - and was so successful that BMW was forced to copy its concept with subsequent 3 Series Gran Turismo and 4 Series Gran Coupe models. Audi though, reckons that the original is still the best and aims to underline that perspective with the second generation version we look at here.
Like the MK2 model A5 Coupe which shares this car's underpinnings and engineware, this Sportback is sharper-looking, more efficient and lighter than its predecessor. It's also much better equipped and more technologically advanced. Time to check it out in a little more detail.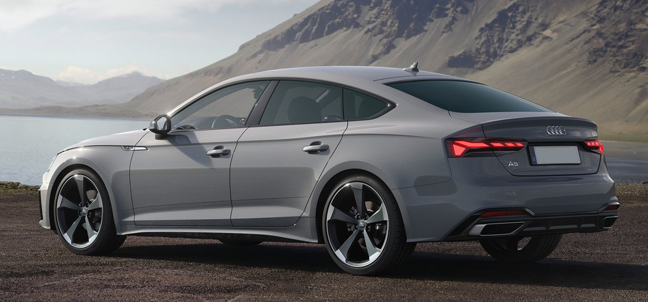 Driving Experience
You'd think, when it came to driving dynamics, that this A5 Sportback would be starting out with a disadvantage over its BMW 4 Series Gran Coupe arch-rival. Its front-driven layout will, after all, never reward an enthusiast in quite the same way as that rear-driven BMW. But in originally developing this car, Audi was convinced that it could be made to feel almost as good. To prove the point, three different suspension systems are being offered, two of them passive and one featuring adaptive damping. Whatever your choice, you'll find the set-up firmer than it would be in an equivalent A4 saloon.
Under the bonnet, a range of 2.0-litre TFSI petrol and TDI diesel MHEV engines has a familiar look. Petrol people get either a front-driven 204PS 40 TFSI or a 245PS quattro 45 TFSI. Both are quick; even the 40 TFSI manages 62mph in just 7.5s en route to 130mph. The 45 TFSI improves that to 6s and 155mph. Diesel drivers choose between a front-driven 163PS 35 TDI. Or a quattro 190PS 40 TDI variant. The 40 TDI makes 62mph in 7.6s en route to 130mph. The S5 TDI six cylinder model, now diesel-engined and offering 347PS, uses a 48-volt MHEV electrical system, an 8-speed tiptronic auto and of course have quattro 4WD. The top RS5 Sportback uses a 450PS 2.9-litre petrol V6.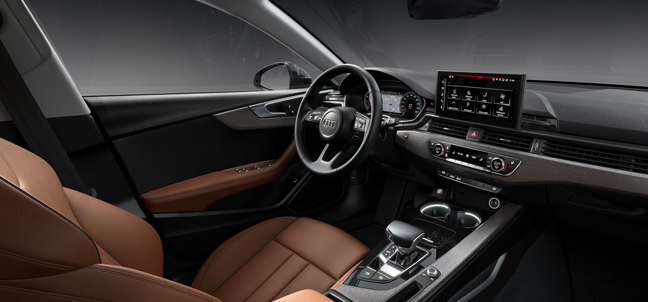 Design and Build
Audi designers have brought together dramatic shapes and taut surfaces to update this A5 Sportback, creating a familiar yet very contemporary silhouette for the five-door coupe design that retains the original's handsome good looks. The stretched wheelbase, short overhangs and long, wraparound bonnet featuring a power dome emphasise the sporty silhouette. The Singleframe honeycomb grille is wider and flatter, and above it ventilation slits reference the classic Audi Sport quattro from 1984. A bold blade forms the lower edge of the bumper, which features larger air inlets. A new sill provides for a slimmer appearance when viewed from the side, while at the rear a diffuser insert with trapezoidal tailpipes makes the car appear wider. In profile, the wave-pattern shoulder line is a key contributor to the A5 Sportback's elegant stance.
Horizontal lines also dominate the interior of these improved A5 Sportback models. The large MMI touch display, the control centre of the car's redesigned operating system, is the focal point of the instrument panel and angled slightly toward the driver. It offers a user experience similar to a contemporary smartphone via a 10.1-inch touch display with acoustic feedback which replaces the rotary pushbutton used in previous models. Like all the latest Audis, this one gets the brand's 'Virtual cockpit' instrument binnacle, a 12.3-inch TFT display that replaces the conventional dials. There's still 480-litres of luggage capacity, which is close to the best in this class. Plus Audi also offers the option of sensor control for opening and closing the standard-fit electric luggage compartment lid. The rear seat back splits 40:20:40 as standard. The load-area width measures exactly one metre and the rectangular-shaped layout of this compartment makes it practical to use. With the rear seats folded down, the car can accommodate 1,300-litres.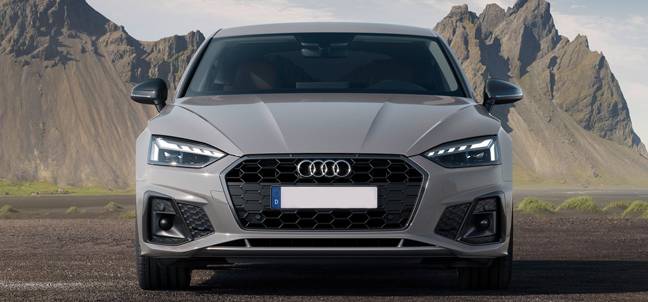 Market and Model
Pricing in the mainstream range sits in the £38,000 to £60,000 bracket, though of course, you'll pay a lot more than that for the sporting S5 and RS 5 variants. The premium if you want to switch from any given petrol variant to its diesel alternative is only around £600. All mainstream A5 Sportback models have to have 7-speed S tronic auto transmission as standard. Quattro 4WD is standard on the faster petrol and diesel derivatives. There are three mainstream trim levels - 'Sport', 'S line' and 'Vorsprung'.
All models come well equipped, every trim grade featuring xenon headlights with LED daytime running lights and LED rear lights, an 'Audi MMI Navigation Plus with MMI Touch' infotainment system with a 10.1-inch colour display, Bluetooth, a three-spoke leather multifunction steering wheel, a front centre armrest, a folding rear seat back with a 50:50 split, and LED interior lighting. Also standard are the Audi drive select dynamic handling system, the Audi pre sense city and multicollision brake assist safety systems, and a variable speed limiter. Also now standard is the desirable 'Audi Virtual Cockpit' TFT instrument binnacle, with its 12.3-inch screen and advanced graphics. Plus even with entry-level 'Sport' trim, you get alloy wheels of at least 18-inches in size and front sports seats in 'Twin' leather. A Head-up display can be ordered at extra cost.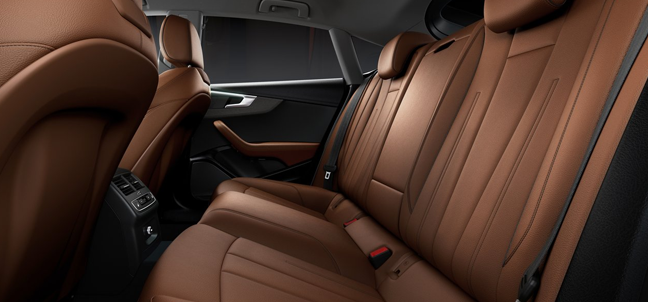 Cost of Ownership
This A5 Sportback's new mild-hybrid diesel engine uses a 12-volt or 48-volt belt-driven alternator starter, a 0.5kWh lithium-ion battery pack and an energy recuperation system. Audi claims exemplary WLTP-rated fuel economy and efficiency, so let's look at that. The 40 TFSI manages up to 42.2mpg on the combined cycle and up to 153g/km of CO2. the 45 TFSI quattro delivers up to 36.7mpg and up to 174g/km. As for the diesels, well the 35 TDI returns up to 54.3mpg on the combined cycle and up to 136g/km of CO2. The 40 TDI quattro manages up to 48.7mpg and up to 153g/km.
So how has Audi managed this very decent showing? Well, it has a lot to do with a revised engine control unit which shuts off the combustion engine when coasting at speeds between 34mph and 99mph. The engine management system decides in every situation whether coasting, freewheeling or recuperation (the recovery of kinetic energy), is most efficient. It does this using information from the navigation system and the onboard sensors. The energy recovered by the water-cooled belt alternator starter during coasting and braking flows into the 48-volt storage unit or directly to the electrical consumers. When the driver presses the accelerator pedal again after a coasting phase or a stop, the water-cooled belt alternator starter restarts the combustion engine. The system does this as required by the driver's wishes and the situation, from very smoothly to very quickly. Start-stop operation begins at 13mph. When stopped, the engine restarts as soon as the car in front starts to move, even if the brake is depressed.
Of course, the driver will have to do his or her part. Helping here is the clever 'Predictive efficiency assist' system that could potentially improve your fuel economy by as much as 10%. It works with the Navigation package and analyses any given route, once set, to decide how the journey could be undertaken more efficiently, taking into account things like the speed limits, traffic signs, bends and roundabouts you'll be encountering along the way.
Summary
Audi has already proved with the A5 Sportback that there's room in the market for a mid-sized executive model with a fifth door and an added dose of charisma. Whether the people buying it are actually conquest customers is another issue entirely of course, but when you're offering cars to suit every conceivable market niche, you can never be quite sure of that.
What's certain is that this second generation model is, in this improved form, more sophisticated and eminently more desirable. Which makes it even harder to ignore if you're target market for this kind of contender. One thing's certain: here's another very desirable Audi.